Thematic Assessment Report on Invasive Alien Species and their Control of IPBES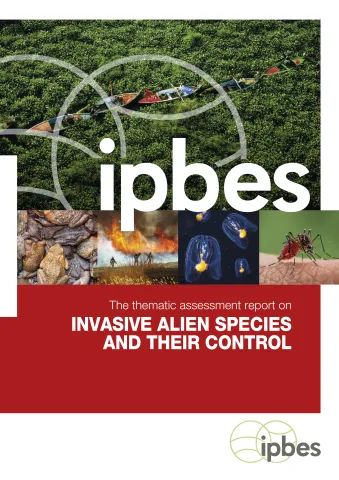 Thematic assessment of invasive alien species and their control
At its sixth session (IPBES-6) in Medellin, Colombia in 2018, the IPBES Plenary approved the undertaking of a thematic assessment of invasive alien species and their control. The assessment officially commenced at the seventh session of the IPBES Plenary (IPBES-7) in Paris the following year. The assessment report is scheduled to be presented for the Plenary's acceptance, and its summary for policymakers for its approval, at the tenth session of the Plenary (IPBES-10), which is being held from 28 August - 2 September 2023 in Bonn, Germany.
In the IPBES Regional Assessments and Global Assessment Report, invasive alien species were identified as one of the main direct drivers of biodiversity loss worldwide. The rapidly growing threat that invasive alien species pose to biodiversity, ecosystem services, sustainable development and human well-being is, however, generally poorly quantified and little understood by decision makers.
The experts assessed the current status and trends of invasive alien species, their impacts, their drivers, their management, and options for policy to deal with the challenges they pose. The assessment takes into account various knowledge and value systems including local and indigenous knowledge. See the full list of experts here
For a short briefing about the scope, scale and significance of the assessment, please refer to the 'primers' for the IPBES Invasive Alien Species report (available in all official UN languages). For further information, please consult the full scoping document.
Editors:
Roy, Helen E.;  Pauchard, Aníbal;  Stoett, Peter; Renard Truong, Tanara 
Overall review editors:
Genovesi, Piero;  Wilson, John R.
Members of the management committee who provided guidance for the production of this assessment:
Rashad Allahverdiyev, Eric Fokam, Shizuka Hashimoto
Suggested citation:
IPBES (2023). Summary for Policymakers of the Thematic Assessment Report on Invasive Alien Species and their Control of the Intergovernmental Science-Policy Platform on Biodiversity and Ecosystem Services. Roy, H. E., Pauchard, A., Stoett, P., Renard Truong, T., Bacher, S., Galil, B. S., Hulme, P. E., Ikeda, T., Sankaran, K. V., McGeoch, M. A., Meyerson, L. A., Nuñez, M. A., Ordonez, A., Rahlao, S. J., Schwindt, E., Seebens, H., Sheppard, A. W., and Vandvik, V. (eds.). IPBES secretariat, Bonn, Germany. https://doi.org/10.5281/zenodo.7430692
Summary for policymakers - Invasive Alien Species Assessment (plain text)
Summary for Policymakers of the Thematic Assessment Report on Invasive Alien Species and their Control of IPBES